Latest News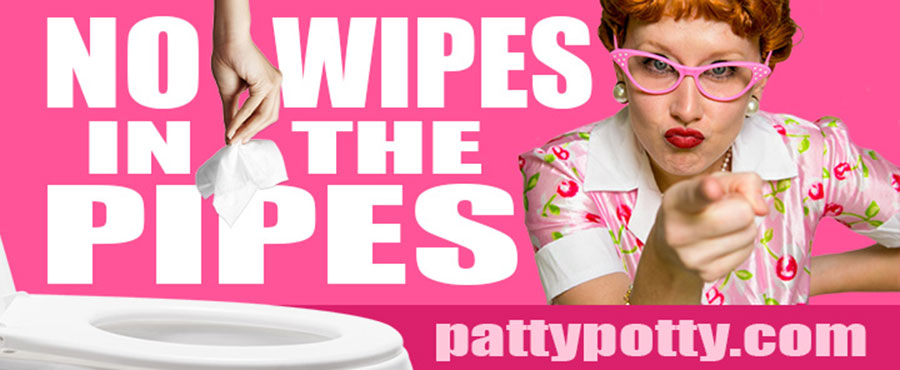 Please DO NOT flush non-toilet paper items. Flushing wipes, paper towels and similar products down toilets can clog sewers and cause backups/overflows into homes, onto streets, down storm drains, wastewater treatment facilities and ultimately into local waterways. Thus creating an additional public health risk in the midst of the coronavirus pandemic.
See the document below and visit the CDC and EPA websites for more information pertaining to your drinking water and COVID-19.
EPA- https://www.epa.gov/coronavirus/coronavirus-and-drinking-water-and-wastewater
CDC- https://www.cdc.gov/coronavirus/2019-ncov/php/water.html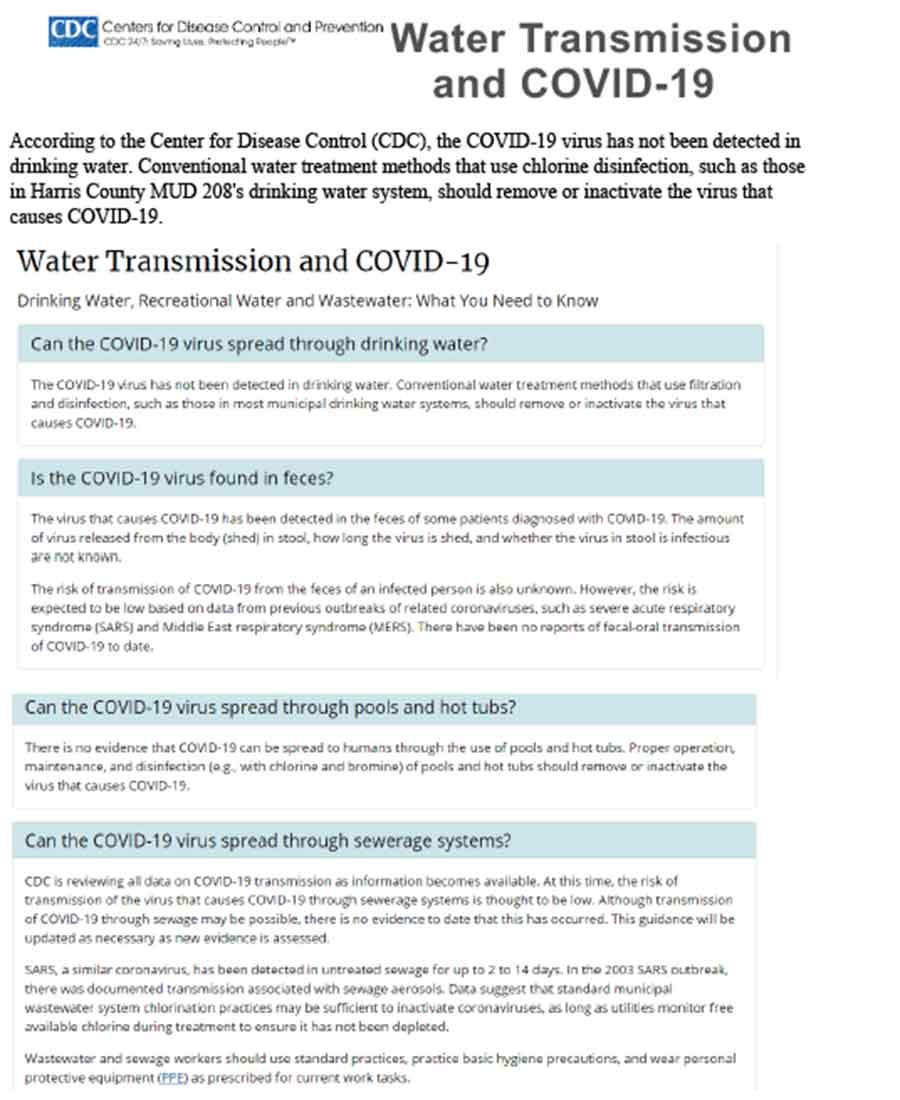 With summer approaching, be sure that your irrigation system is running at peak performance. Harris County Municipal Utility District No. 208 is offering assistance by providing a complementary inspection of your sprinkler system. A tune-up to your irrigation system will improve the efficiency at which your lawn is watered during the hot summer months, thus saving money and conserving water. The goal of this program is to use techniques approved by the State of Texas to set irrigation water usage at state recommended levels and to improve your home's sprinkler system efficiency with a plan that is personalized to fit your home's landscape. The Landscape Irrigation Program will provide the services of a Licensed Texas Irrigator who would visit your home at your convenience and conduct a comprehensive audit of your sprinkler system free of charge.
Do you know that you can overwater your lawn? Overwatering will deplete the oxygen which stresses both grass and plants making them more susceptible to disease and insect damage. Minor disease and insect problems can become major lawn disasters when a lawn has a shallow root system. Daily watering will cause a shallow root system. Less frequent but longer watering to achieve ½ to 1 inch of water maximum per week is all that the lawn needs.
Our Landscape Irrigation Program has helped many of your fellow residents reduce water usage thus saving money while still maintaining a strong green yard. Some homeowners have even won Yard of the Month while following the custom watering run time schedules recommended by this program.
If you are interested in an irrigation system audit being performed at your residence, or would like additional information, please contact Joshua D. Board of H2O Consulting at 281-861-6215 or by e-mail at: conservation@h2oconsulting.net. Please note that the Free audit is available to every MUD 208 household once every 3 years.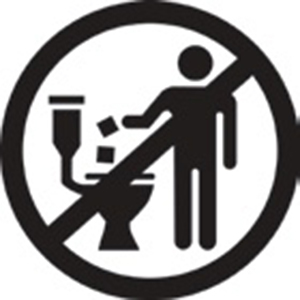 With many following the recommendations of health officials to clean and sterilize frequently touched surfaces in the home such as counter tops, faucets and door knobs, there has been a surge in backed-up sewer lines as people discard used disinfectant wipes, baby wipes, napkins, paper towels and other paper products into the toilet. Unfortunately, these items are not designed to and do NOT disintegrate like toilet paper. The result is clogged sewer lines and backed up, overflowing toilets. To avoid back-ups and overflows, ONLY FLUSH TOILET PAPER.
Consumer Reports notes that companies currently advertise their wipes with terms like "safe for sewers and septic", or promise that the product will "break up like toilet paper". But this is simply not the case, "Flushable wipes are a consumer's dream come true but every plumber's nightmare," Did you know it only takes a few of those wipes to get hung up in your sewer line before you have to call the plumber and pay hundreds of dollars to have your pipes snaked.
The question comes down to how quickly a "flushable" product breaks down in water. Consumer Reports tested many of the leading brands of toilet paper and "flushable" wipes and concluded that all of the wipes completely failed the disintegration test, while even the strongest, thickest toilet papers squeaked by with a low passing grade.
So, it's pretty simple, just keep inappropriate items (disinfectant wipes, baby wipes, napkins, paper towels, etc.) out of your toilet and out of the sewer system. This not only can save you hundreds of dollars, but keeping wipes out of the main sewer lines could save your utility district thousands of dollars.
For the sake of your plumbing, dispose of wipes in the trash can. Remember keep those wipes out of the pipes, don't believe the hype! Flush only the 3 P's Pee, Poo and toilet Paper.
If you receive a letter from Harris County MUD 208 and you are told you are one of the top 10 residential water users, it is not a good thing. It means your household is using well above the "normal" average household usage of water in our area. Just remember the average household's "leaks" can account for more than 10,000 gallons of water wasted every year, or the amount needed to wash 270 loads of laundry. There are several things you can do to make certain you do not receive this letter.
Check your sprinkler system to see if it needs to be repaired. Please physically check your sprinklers and make certain all heads are in working order and not watering the neighbor's yard or the street.
Place a drop of food coloring in the toilet tank. If the color shows up in the bowl within 15 minutes with-out flushing, you have a leak. Make sure to flush immediately after this experiment to avoid staining the tank.
Keep your home leak-free by repairing dripping faucets, toilet flappers, and showerheads. In most cases, fixtures replacement parts don't require a major investment.
Don't leave water running while you brush your teeth or shave.
Don't use water to do what can be done with a broom. Cleaning the driveway and sidewalk with a broom rather than a hose does the same thing, and usually takes less time.
Keeping your yard green does not require that sprinkler to run for hours on end or daily for that matter. You just need 1″ a week for a healthy lawn. Irrigate your lawn deeply and infrequently. Turn off the system if we have had 1″ of rain that week.
Wash only full loads of clothes.
Install rain barrels or harvest rainwater for outdoor irrigation.
Run your dishwasher with full loads only.
Take shorter showers.
Basically, you don't want to be on this list. Yes everyone for years has thought that water was always going to flow out of the faucet with just a simple twist of your hand. Luckily we are not living in California and yes we have had a wonderful, wet winter but we still need to always be mindful of our natural resources. We are just now experiencing a recovery from some of the worst droughts in Texas.